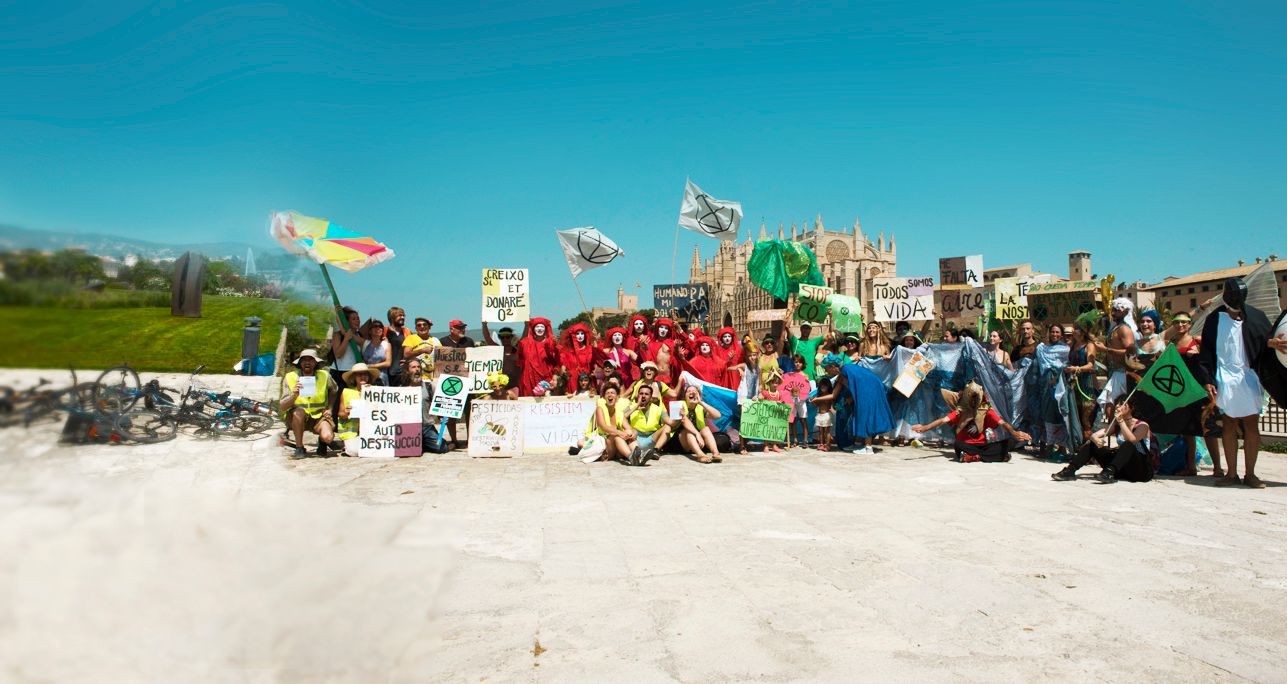 Extinction Rebellion Mallorca | Rebel·lió o Extinció
Nos enfrentamos a una emergencia ecológica y social global sin precedentes. Los gobiernos no han podido protegernos. | Ens enfrontem a una emergència ecològica i social global sense precedents. Els governs no han pogut protegir-nos.
Contribute
---
Become a financial contributor.
Financial Contributions
Cada aportación mensual ayuda a mantener el nodo activo. Cada aportació mensual ajuda a mantenir es node actiu. Read more
Starts at€5 EUR / month
Top financial contributors
Incognito
€3,536 EUR since Mar 2020
Incognito
€1,991.9 EUR since Mar 2020
Pin
€20 EUR since Mar 2020
Extinction Rebellion Mallorca | Rebel·lió o Extinció is all of us
Our contributors
8
Thank you for supporting Extinction Rebellion Mallorca | Rebel·lió o Extinció.
Budget
---
Transparent and open finances.
Total disbursed
€5,137.43 EUR
Connect
---
Let's get the ball rolling!
News from Extinction Rebellion Mallorca | Rebel·lió o Extinció
Updates on our activities and progress.
About
---
Rebel·lió o Extinció - Extinction Rebellion Mallorca (XR)CAT:
Qué és?
XR és un moviment social, internacional, apartidista i que usa l'acció directa noviolenta (ADNV) per a persuadir als poderosos (governs i altres òrgans aglutinadors de poder) perquè actuïn enfront de les crisis ecològiques, socials i climàtiques que el món, i en el nostre cas, el Mediterrani i Mallorca pateixen.

Qui som?
Per a això, ens aixequem persones corrents, que estem o no organitzats en altres col·lectius, per a convergir en un grup sense forma jurídica, però cohesionat per la germanor / fraternitat, la sensibilitat i el sentit de l'estat d'emergència que travessem.

Com ho farem?
Assumim que els últims 30 anys de campanyes no han obtingut generar els canvis necessaris per a assumir els desafiaments de l'emergència ecosocial que vivim. Així i tot, valorem profundament i aprenem constantment del treball fet per totes les lluites que ens precedeixen. Als poderosos els va divinament amb el nostre rumb suïcida actual. Mitjançant la persuasió i informació no hem aconseguit superar un poder tan arrelat. Així que ho farem mitjançant la disrupció, la desobediència civil no violenta, creant una massa crítica per a aconseguir el canvi social.

Com ens relacionem?
Estem en transició cap a cultures regeneratives, fent el possible per a generar espais que siguin llocs segurs, d'integració i cures per a totes les persones. És una cultura de creixement col·lectiu i escolta profunda, en la qual les persones arriben a temps als compromisos. Donem benvinguda als conflictes en el moment que sorgeixin. És una cultura en la qual cultivem límits saludables cap a nosaltres mateixes i en la que aprenem a ser coherents i alliberar-nos de judicis de valor i veritats absolutes. Tractem de generar una cultura sana i llaços resistents basats en la confiança, les cures i el suport.

Totes som tripulació del mateix llaüt, que avui més que mai necessita un gir de timó.
Et necessitem perquè ens necessitem.


Contacte: 
===

CAST:
¿Qué es?
XR es un movimiento social, internacional, apartidista y que usa la acción directa noviolenta (ADNV) para persuadir a los poderosos (gobiernos y otros órganos aglutinadores de poder) para que actúen frente a las crisis ecológicas, sociales y climáticas que el mundo, y en nuestro caso, el Mediterráneo y Mallorca padecen.

¿Quiénes somos?
Para ello, nos levantamos personas corrientes, que estamos o no organizados en otros colectivos, para converger en un grupo sin forma jurídica, pero cohesionado por la hermandad / fraternidad, la sensibilidad y el sentido del estado de emergencia que atravesamos.

¿Cómo lo haremos?
Asumimos que los últimos 30 años de campañas no han obtenido generar los cambios necesarios para asumir los desafíos de la emergencia ecosocial que vivimos. Aun así, valoramos profundamente y aprendemos constantemente del trabajo hecho por todas las luchas que nos preceden. A los poderosos les va divinamente con nuestro rumbo suicida actual. Mediante la persuasión e información no hemos logrado superar un poder tan arraigado. Así que vamos a hacerlo mediante la disrupción, la desobediencia civil no violenta, creando una masa crítica para lograr el cambio social.

¿Cómo nos relacionamos?
Estamos en transición hacia culturas regenerativas, haciendo lo posible para generar espacios que sean lugares seguros, de integración y cuidados para todas las personas. Es una cultura de crecimiento colectivo y escucha profunda, en la que las personas llegan a tiempo a los compromisos. Damos bienvenida a los conflictos en el momento que surjan. Es una cultura en la que cultivamos límites saludables hacia nosotras mismas y en la aprendemos a ser coherentes y liberarnos de juicios de valor y verdades absolutas. Tratamos de generar una cultura sana y lazos resistentes basados en la confianza, los cuidados y el apoyo.

Todas somos tripulación del mismo barco, que hoy más que nunca necesita un giro de timón.
Te necesitamos porque nos necesitamos.


Contacto:
XRMallorca@protonmail.com
Instagram @xrmallorca |
Facebook @xrmallorca
| Twitter @xrmallorca