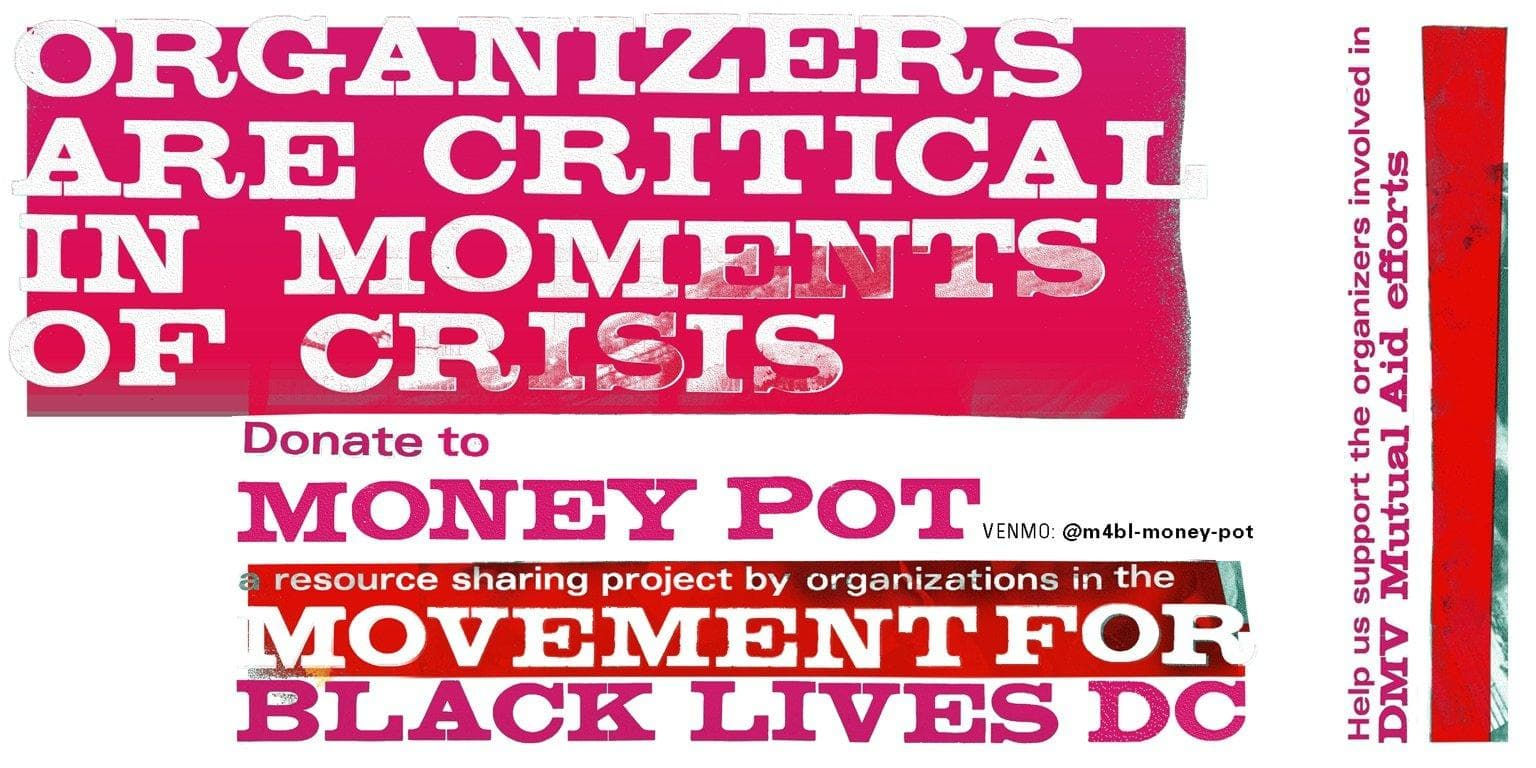 M4BL DC Money Pot
A resource sharing project, where people with access to resources contribute what they can, to a pool of funds, and organizers can draw from the pot to meet their needs. Nominate an organizer at bit.ly/moneypot-nomination.
Contribute
---
Become a financial contributor.
Top financial contributors
Individuals
Incognito
$13,000 USD since Jan 2021
$11,800 USD since Apr 2021
Incognito
$5,200 USD since Feb 2021
Incognito
$5,000 USD since Feb 2021
Robin Katcher
$5,000 USD since Mar 2021
Incognito
$4,500 USD since Feb 2021
M4BL DC Money Pot is all of us
Our contributors
234
Thank you for supporting M4BL DC Money Pot.
Incognito
Return the Wealth
$13,000 USD
One Time Contribution
$11,800 USD
Projects
Support the following initiatives from M4BL DC Money Pot.
Connect
---
Let's get the ball rolling!
News from M4BL DC Money Pot
Updates on our activities and progress.
Join us for Contributor Community Meetings
Hello Money Pot Contributors! We hope you had a nourishing winter holiday season :). We are starting the year on a strong foundation. In December, we redistributed $16,000 from the Pot, supporting 8 organizers in the DC movement ecosystem....
Read more
Published on January 12, 2023 by
Mintz
Celebrating 2022! and what's next for 2023?
Dear Money Pot contributors' community, Thank you for another great Money Pot year! What did we accomplish this year? With your contributions, this year we redistributed almost $150,000 to BIPOC organizers who are...
Read more
Published on December 21, 2022 by
Mintz
About
---
We have been horrified by the lack of a unified governmental response to care for the needs of DMV residents. 


This reality will only magnify the inequity in which we live every day, doing the most harm to people who already live at the margins of our social fabric: hourly and contract workers, people working in informal and gig economies, single parents, folks experiencing homelessness, poor and working class communities, immigrants with varying documentation statuses, people without access to health insurance, folks with disabilities or mental health struggles, queer and trans people, and Black, Brown and Indigenous communities.


Here in the DMV, organizers from these communities are coming together to create systems of
mutual aid
for the survival and safety of their loved ones and neighbors...
In the past months, mutual aid efforts have made sure hundreds of people who are confined to their homes get groceries, that there is a hotline in every ward for people to call who are in need of aid, and that there is a coordinated effort to hold the DC city government accountable to care for our neighbors. With this project alone, we've redistributed over $140,000 to 117 different community leaders to make sure grocery money, rent, therapy, doctors appointments, rest and rejuvenation are possible.  

 
Support the organizers!
As with most community organizing work, setting up and implementing these systems is a labor of love. It is difficult, heavy, unpaid work being taken up by individuals who already carry so much. We are asking you to pour into and support the work of folks leading mutual aid projects by giving generously now and for the future.


If you happen to be hit less hard in this moment, will continue to receive income during this time, have access to wealth, have access to paid sick leave, or have fewer familial responsibilities, please contribute financially. 


Budget
---
Transparent and open finances.
Total disbursed
$314,493.60 USD