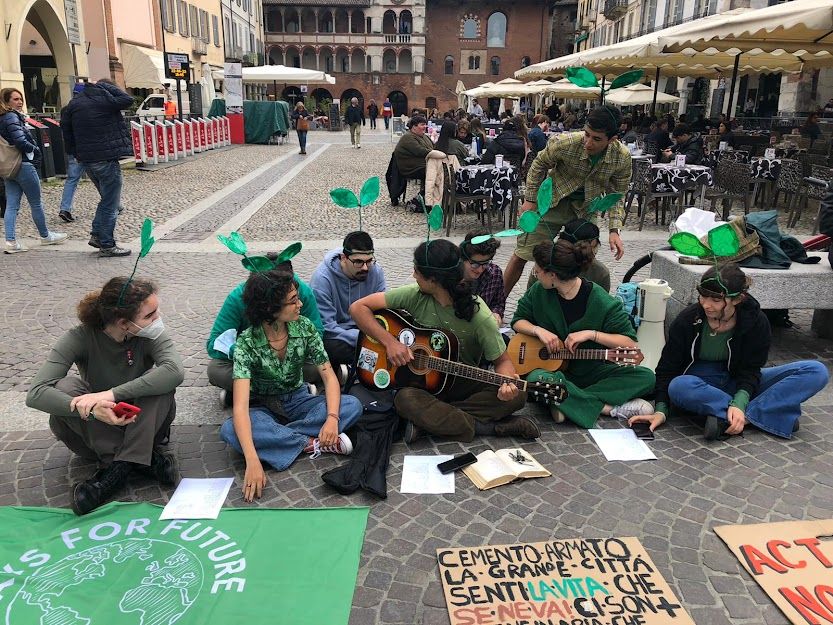 FridaysForFuture Pavia
Fridays For Future Pavia è il gruppo locale del movimento globale che lotta per la giustizia climatica e ambientale, organizzando scioperi, presidi ed eventi
About
---
🟩 Siamo studenti e studentesse di scuola e università, abbiamo dai 14 ai 30 anni. Vivremo questo Pianeta dopo il 2030 e dopo il 2050. I nostri figli vedranno il 2070 da adulti, i nostri nipoti vedranno il 2100.

🖤 Abbiamo paura perché a causa di una serie di cambiamenti nei normali cicli fisici, chimici e biologici, il clima sta diventando più caldo, mentre aumenta l'inquinamento e una serie di altri fragili equilibri globali si alterano.
Abbiamo paura perché tutto ciò potrà portare centinaia di milioni di morti entro i prossimi 30 anni. Abbiamo paura perché saremo costretti a emigrare. Abbiamo paura perché la migliore scienza da almeno 60 anni dice che rischiamo il collasso della nostra specie e nessuno agisce.

💗Abbiamo speranza perché in 4 anni abbiamo portato decine di milioni di persone in piazza. Abbiamo speranza perché tutti i sondaggi dicono che clima e ambiente negli ultimi anni sono diventati priorità per i cittadini. Abbiamo speranza perché abbiamo già bloccato una infinità di progetti catastrofici, fatto approvare leggi e piani e reso, in pochissimi anni, la crisi climatica un tema fondamentale.

✊ Abbiamo rabbia perché tutto ciò non basta ancora.
Abbiamo studiato perché sappiamo i rischi che corriamo.
Scendiamo in piazza perché non ci resta altro.


Questa pagina nasce perché tutto ciò ha un prezzo economico di almeno 1500 euro annui. Qui gestiremo la raccolta fondi in modo trasparente e giusto. Vi chiediamo di donare anche solo 5 euro, o magari anche di più. I soldi servono interamente per ripagare il più possibile le spese che abbiamo per organizzare scioperi, azioni, assemblee, dibattiti, incontri, eventi e molte altre cose. Ogni aiuto per noi è importante: donando una somma grande o piccola che sia darai un enorme supporto al futuro comune.

Con rabbia e amore,
Fridays For Future Pavia
Contribute
---
Become a financial contributor.
Projects
Support the following initiatives from FridaysForFuture Pavia.
Abbiamo presentato le nostre richieste al Comune di Pavia. Leggile e aiutaci a organizzare i nost...
Top financial contributors
AC
€500 EUR since Jan 2023
Mauro Vanetti
€50 EUR since Feb 2023
MTO
€20 EUR since Feb 2023
Guest
€10 EUR since Feb 2023
Silvia
€5 EUR since Jan 2023
FridaysForFuture Pavia is all of us
Our contributors
7
Thank you for supporting FridaysForFuture Pavia.
Guest
Aiutaci a parlare nelle scu...
€10 EUR
Budget
---
Transparent and open finances.
Connect
---
Let's get the ball rolling!
Conversations
Let's get the discussion going! This is a space for the community to converse, ask questions, say thank you, and get things done together.