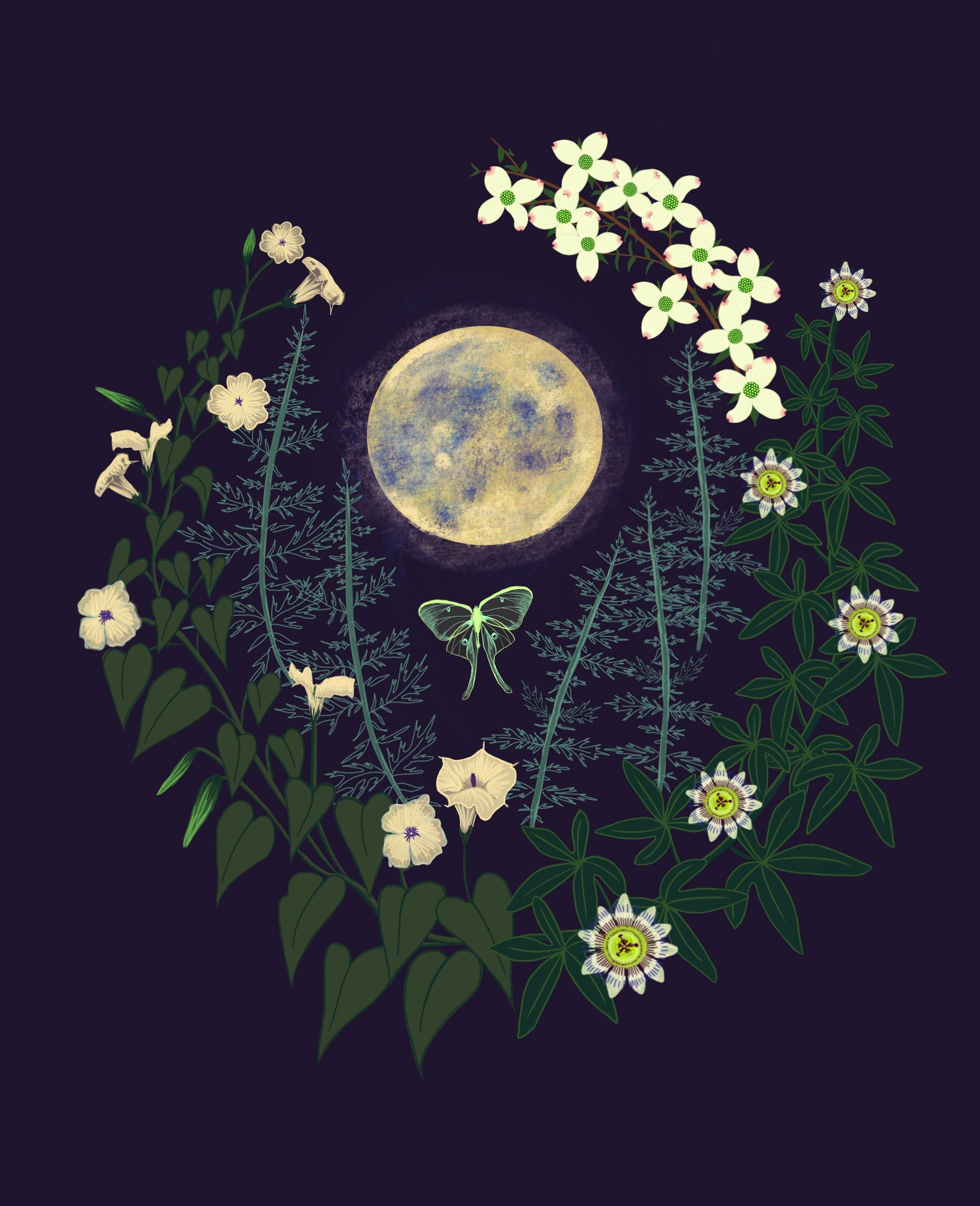 *PAST EVENT* "Resting in the Unseen" Retreat
Join us October 26-29 in Atlanta for an in-person retreat featuring co-teachers Lama Rod, Lama Justin, and Ayesha Ali. Review below for more details!
Wednesday, October 26, 2022, 12:00 PM - Saturday, October 29, 2022, 3:00 PM (UTC-04:00)
About
---
(Art by Daniela Rivero)

connection + ritual + embodied practice 

Thank you to everyone who has invested in attending and supporting our October retreat in Atlanta. We can't wait to be together! 

Sesalli and the co-teaching team have been working hard to weave this offering into being, and we sincerely look forward to sharing this special opportunity with you. 


To learn more about suggestions for accommodations, COVID-19 policy, a tentative retreat schedule, things to do in Atlanta, and much more, click here:
Bhumisparsha October 2022 Retreat Info
We want to make this retreat as accessible as possible! The best ways you can support accessibility are
:
Bonus! Everyone who books a ticket and/or donates to support accessibility will receive a bundle of curated audio + video recordings and resources from the retreat. All donations, including payments for tickets, are tax deductible via our fiscal hosting relationship with Open Collective Foundation.


With your support, we can co-create a powerful opportunity to Rest in the Unseen together as the diverse, rainbow collective that is Bhumisparsha.


May all beings benefit! 

Below is a brief overview of what we are planning. 
Tuesday, October 25th will be a small event for those who have volunteered for Bhumisparsha at any point and are attending the retreat. We are still working out the details. More information will be shared closer to the date with those that have registered for the retreat. 
Wednesday, October 26th - Friday, October 28th are the main retreat days! This is a non-residential, urban retreat in the Atlanta area. This year's theme is "Resting in the Unseen", it will be a time for us to explore unseen realms and relations, calling us to find rest within spaces that are unknown, unseen and uncontrollable. Lama Rod, Lama Justin and Ayesha Ali will be the main facilitators of this retreat with special guests we will announce later! 
Saturday, October 29th will be a FREE offering open to all members of the community, those curious about Bhumisparsha, friends and family. This will be an informal gathering at the park where we will create a collective altar and enjoy being in physical space with one another. 
How to register
You can register by selecting one of three "ticket" options (see above) which are described below. Simply follow the prompts to submit your payment. For context about our strategy for pricing and accessibility, please scroll to "Context for Tickets and Accessibility".
After submitting payment for whichever tier works best for you, you will receive a confirmation email. This message will include additional resources for the retreat community to self-organize around carpooling and accommodations. We also request that you submit a brief survey to share your contact information, accessibility requests, dietary restrictions, etc. 
After you submit your payment and survey, you will officially be registered for the Resting in the Unseen retreat! 
We will be sharing additional information with participants via this registration page. You will receive an email update anytime we have more information to share.
Local to Atlanta?
We are looking to our community to help support making this retreat amazing! If you are local and are able to offer any support to our retreat please reach out. We are hoping that people in our community can support with….
A room someone can stay in during the retreat 
Spare COVID-19 tests to have on-hand during the retreat
COVID-19 POLICY 
(Created with support from members of Bhumisparsha's Practice Circle)
We are asking everyone to take a covid-19 test within 24 hours of the retreat. We will get verbal confirmation of a negative result at the door when you check in 

An at-home test is fine 

Testing is also available locally, you will have to schedule an appointment at most places and there may be a cost associated with it. Make sure to take a rapid test to ensure you get results before the start of the retreat

If you test positive for COVID-19 in the days leading up to the retreat you will not be able to attend and will receive a full refund 

In the weeks leading up to the retreat please be extra cautious and take care

If you are flying to us, please wear a mask on your flight, in the airport and highly populated areas, regardless of your vaccination status 

Within the sanctuary, where we will be having the retreat, wearing a mask is highly encouraged but not required

Everywhere else in the venue masks are required in accordance with their policy

We encourage you to take up space and spread out within the sanctuary


SCHEDULE
We will be gathering daily from 1pm - 9pm in the space. This leaves morning for exploring Atlanta and informal meetups with community members. Our current schedule *subject to change* is below 


Wednesday October 26, 2022  
1:00 - 1:30 pm: Check In & Get Settled
1:30 - 2:00 pm: Welcome + Housekeeping
2:00 - 2:30 pm: Resting In the Unseen, discussion with Ayesha, Lama Justin & Lama Rod
2:30 - 3:30 pm: Earth Grounding Practice with Lama Rod 
3:30 - 4:00 pm: Break 
4:00 - 5:00 pm: Clear Light Yoga with Lama Justin
5:00 - 6:00 pm: Dinner Break 
6:00 - 7:30 pm: We're a Mess--It's Alright, with Ayesha Ali 
7:30 - 8:30 pm: Resting in the Dark
8:30 - 9:00 pm: Closing Moment 

Thursday October 27, 2022 
1:00 - 1:15 pm: Arrival & Get Settled 
1:15 - 2:00 pm: Grounding Practice
2:00 - 4:30 pm: Movie! 
4:30 - 5:00 pm: Dharma discussion of movie 
5:00 - 6:00 pm: Dinner Break 
6:00 - 8:30 pm: The Light Ceremony of Amitabha with Lama Rod
8:30 - 9:00 pm: Closing Moment 
Friday October 28, 2022
1:00 - 1:30 pm: Arrival & Get Settled 
1:30 - 2:30 pm: Dance + Movement with Karen Nelson
2:30 - 3:00 pm: Break 
3:00 - 5:00 pm: Conversation with Ayesha, Lama Rod, Lama Justin, Swami Jaya Devi
5:00 - 6:00 pm: Dinner Break 
6:00 - 6:30 pm: Grounding
6:30 - 8:00 pm: Empowerment for Palden Lhamo Dudsolma with Lama Justin
8:00 - 8:30 pm: Break 
8:30 - 9:00 pm: Closing Moment 
Saturday October 29, 2022
11:00 am - 3:00 pm: Meeting together at Candler Park! 
This will include a Tsok Prayer, collective altar and connecting with each other! 
Context for Tickets and Accessibility
Our intention is to provide a robust and supportive retreat environment for all participants while also enhancing accessibility as much as possible. To accomplish this, our plan is to release tickets in two waves:
The first wave is structured in a way that makes it possible to cover the total costs of organizing the retreat. If the first wave sells out (thereby covering retreat costs), our hope is to release more tickets at the lowest possible price. On or around October 1st, we will assess ticket sales and the retreat budget. We will then update the community if/when we are able to offer more tickets at lower price points. 
If you would like to help make this retreat as accessible as possible, the best way to contribute is by registering at the standard tier ($375) or the highest tier ($500). By doing so, you are creating opportunities for those who benefit the most from the lower tier ($250). We would love to offer an even lower cost option if possible!
In short, the generosity of the entire Bhumi community will power our ability to welcome as many people as possible. If you have any questions about this registration model or how these prices were decided, please reach out to Sesalli at sesalli@bhumisparsha.org. You will find more detailed information about each ticket tier below.


$250 
This is our lowest ticket price we are able to offer currently to support covering the costs of the retreat. 
There are a very limited number of tickets currently available at this price point. Please take a pause and ask if this price is truly supportive for you or if you are able to buy at a higher tier.
 It is not guaranteed that we will be able to open up more tickets, but please know that the option may be available closer to the retreat if all first-wave tickets sell out, covering most of the cost of the retreat.
$375 
This is our standard ticket price that supports covering the costs of the retreat. 
If we sell all tickets included in the first wave, we may be able to open up a second wave of tickets, including an even lower price point. The best way you can support us being able to open up the accessibility of this retreat is simply for you to buy a ticket at this price (or higher) and attend!
$500 
This is our higher end ticket price to support covering costs of the retreat while creating space in our budget to offer more affordable options.
To view the current budget for this retreat,
click here
. Please note that this budget will certainly change week by week (or even day by day) as the retreat continues to emerge.

We hope to see you in Atlanta soon!

A Note of Transparency:

This is Bhumisparsha's second time leveraging the "Events" function of our Open Collective page. Thank you for collaborating in this experiment! Please contact Eric (eric@bhumisparsha.org) or Sesalli (sesalli@bhumisparsha.org) if there is any way we can improve/simplify registration processes for future virtual or in person events via this platform.

Flyer by Sesalli Castillo
Connect
---
Let's get the ball rolling!
News from *PAST EVENT* "Resting in the Unseen" Retreat
Updates on our activities and progress.
Budget
---
Transparent and open finances.
Total disbursed
$12,177.97 USD