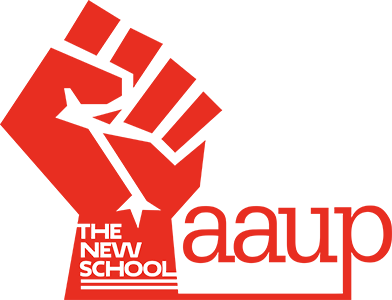 AAUP-TNS
AAUP-TNS works to advance the mission of the AAUP through advocacy and organizing for faculty and other academic professionals at The New School.
Contribute
---
Become a financial contributor.
Top financial contributors
Jurgen von Mahs
$145 USD since Mar 2022
Guest
$42 USD since Feb 2022
Josh Scannell
$42 USD since Mar 2022
AAUP-TNS is all of us
Our contributors
8
Thank you for supporting AAUP-TNS.
Budget
---
Transparent and open finances.
About
---
In the absence of chapter dues and in recognition of the financial hardship of contingent faculty, the Leadership Council of the AAUP-TNS founded this Membership Fund. The AAUP-TNS does not currently require chapter dues, so members only pay dues to the
national AAUP organization
. Donations to the Membership Fund help contingent faculty and others who take on teaching roles at The New School pay dues to the AAUP national organization and thus become members of our local AAUP-TNS chapter. Donations also support our chapter's monthly bank fee, necessary to the disbursement of funds, and our website's annual maintenance fee.  You can read about the fundamental tenets of the AAUP-TNS on our
website
. Lapsed AAUP-TNS members who are not in need of support, please don't forget to renew annually
here
. Please note: contrary to the December 2020 member announcement, donations to the Membership Fund are not tax-deducible at this time. Dues are tax-deductible professional expenses, AAUP being at the national level a 501(c)3 organization.
The Open Collective is a transparent system that allows users to see how money is being spent. It works on a reimbursement basis, where users submit receipts. If you are a contingent faculty or staff member in a teaching role at the New School and want to inquire about support from the Membership Fund, please contact us through this site or email us at aauptns@gmail.com. Eligible AAUP-TNS members include part-time faculty, staff members in teaching roles, graduate student workers, librarians, Maker Center staff, etc. If you're unsure of your eligibility for AAUP-TNS membership, feel free to reach out or go to the
Membership FAQ
. Unfortunately, the Membership Fund does not support full-time workers at TNS.
If you are a New School community member in need of financial assistance due to COVID-19, reduced employment, or voluntary separation, or if you are interested in supporting those community members, please go to
The New School Mutual Aid Collective
site for more information.